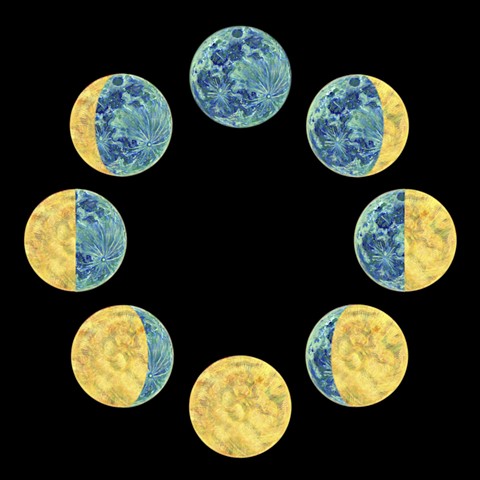 Seasonal cycles (solstice, equinox & cross-quarter)
Giclee on premium archival matte paper (230g)
12"x12"
2021
Celebrate the solstice, equinoxes and cross-quarter days.
Moon at 12 o'clock represents the winter solstice, the darkest day of the year, and the full sun at 6 o'clock the summer solstice. 3 o'clock is spring equinox and 9 o'clock fall equinox.
The remaining spheres represent the 4 cross-quarter days. Moving clockwise from 12 we have Candlemas (Groundhog's Day) 2/1, Beltane (May Day) 5/1, Lammas 8/1, Samhain (Halloween) 10/31. Both Celtic and common names are listed.
Giclee print on archival premium matte paper (230g).
Hand signed, dated and editioned on back.
Full bleed print.
Paper size 12"x12".
Limited edition of 100.
Printed locally in New Hampshire.
Packaged in cellophane sleeve with foam core backing insert.
Please allow 2-3 weeks for delivery, art is printed to order and shipping may be unpredictable due to Covid-19.
Print: $38
MA Sales Tax: $2
Standard shipping within USA: $7
Custom sizes available upon request.